The Beauty of Sailing in Cres on a Charter Yacht
crosailing | 24 Decembar, 2013 12:06
Hello and welcome to my first blog post! My name is Gilbert Seric and I love sailing around the world with my lovely wife Emma who is a keen admirer of Croatia's natural beauty, so this year we decided to re-visit Croatia and set sail for the island of Cres. The island is located in the Kvarner Gulf off the east coast of the large peninsula of Istra in Croatia, between the islands of Krk and Rab. It is also the home to some of endangered griffin vultures. Traveling around the island, you may be lucky enough to spot one of these magnificent creatures, conspicuous for their three meter wingspan. Truly amazing!
We rented a yacht from the Croatian company that offers chartering services and various vessels, none other than SailingEurope. During our trip to Cres, my wife picked the cove of Vrc as our main anchorage, which is situated at the extremity of Cres Island and is the most attractive anchorage around this deeply indented section of the coast. The place had good wind shelter and once we were sure our boat was safe and secure, we continued our journey on foot.
Once we've reached the town of Cres, we discovered that it was a very picturesque and Italianate place to live in. With tall, pastel-colored houses clustered round a small outer and tiny inner harbor, we fell in love with this town in an instant. Like many similar towns in Croatia, the residents make up for their lack of gardens with balconies or front steps that are beautifully decorated. The charming village of Valun four miles of Cres Town was certainly worth a visit. We had a nice meal in one of the restaurants there, the food was delicious. Next we visited the town of Osor, where a narrow canal divides Cres Island from its neighbor Losinj. The village was most atmospheric and enlivened with some superb bronze sculptures around the main square, including one by Ivan Mestrović, a famous Croatian sculptor. A short walk along the coast brought us to Bijar cove, a small bay with a ruined Franciscan monastery with Gagolitic inscriptions on its bell tower. Beli village itself was also very charming.
We left Cres once we were sure we've witnessed enough of Croatia's beauty for one day, but we certainly agreed to pick up our journey tomorrow and visit other Croatian islands that are sure to provide us with many, many wonderful sights.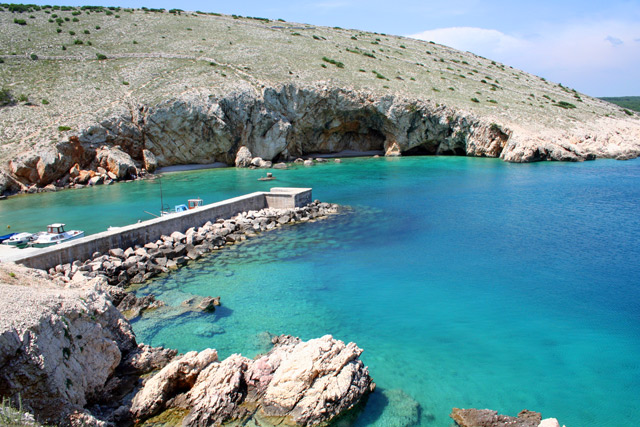 The Island of Cres